Sometimes, getting to your home, your car or even the bus stop can be a little dicey. Maybe it's at night, or maybe you're in an area that's unfamiliar.
Don't panic  Two University of Pittsburgh services are designed to help in those situations: SafeRider and Walking Escort.
The SafeRider program is a complimentary shuttle service that allows riders to be picked up during certain hours and in certain area when special non-emergency needs arise.
The service is open to Pitt students, faculty and staff.
The Walking Escort Service allows any student, faculty or staff member leaving the Hillman Library to be accompanied by a security guard to certain locations within walking distance, including students living at a facility at Carlow University's campus, or to a bus or shuttle stop 
Both programs are provided for free by the University, but there are limitations. Here are more details about each:
Walking Escort Service
The escort will be provided by an Allied Universal Security officer working on the ground floor of the Hillman Library to locations within walking distance.
Anyone needing to get to the upper campus will be escorted to a shuttle or bus stop. The guard will wait with you until your transportation arrives.
Anyone using the service must first present a valid Pitt I.D.
The service is provided from 8 p.m. to 6 a.m. on Sunday through Thursday, or from 8 p.m. to 10 p.m. on Friday and Saturday.
Here is a general map of where the guards will provide a walking escort: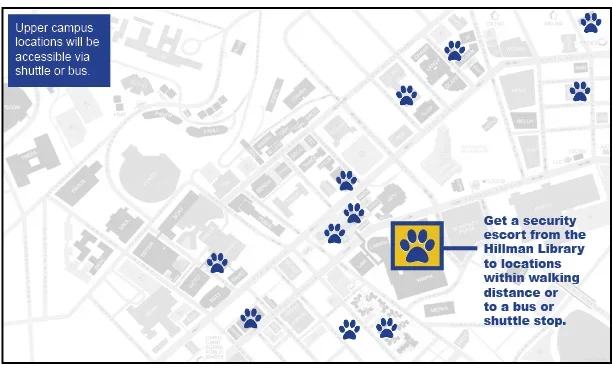 If you choose to walk on your own, please remember that you are in a public environment. Here are some general tips for walking safely on the Pittsburgh campus:
Walk your route ahead of time. This way you know how long it will take and if it is a safe way to commute to campus on foot.
Watch for Port Authority Buses. Buses on Fifth Avenue travel in both directions even though the street is one-way. Always look both ways when crossing the street.
Dress for the weather! During the warmer months, storms can drop a significant amount of rain very quickly in Pittsburgh. Short-lived flooding is common in the city. A rain jacket is not always enough to keep you dry. We recommend carrying a large umbrella, rain boots, a rain jacket, and if heavy rainfall is expected a pair of rain pants and proper footwear. Of course, you always have the option to ride Port Authority with a valid Pitt ID on those rainy days!
Oakland is a very popular neighborhood for traffic, cyclists, and other pedestrians. Always walk with your head up, so you can see what is happening around you.
Don't forget about the hills! Pittsburgh's topography can make walking more challenging depending on many factors such as the weather and individual health. There are a lot of great topography apps to help you navigate/avoid those difficult hills.
Walking Safely in Oakland
Plan your route. Not all routes are convenient, comfortable, or safe when commuting on foot. Use the walk mode on Google Maps to plan your route.
See and be seen. Never assume a driver can see you – be visible (wear bright colors or reflective clothing).
Walk on the sidewalk and don't be distracted! Stay alert and watch for vehicles entering/exiting parking garages/lots and driveways.
Cross at the crosswalk and use pedestrian traffic controls when available.
Know Pennsylvania's pedestrian laws.
If walking at night, be aware of your surroundings, regardless of where you are, and try to cross streets at well-lit intersections/crosswalks. 
Pitt is committed to providing and maintaining a safe and secure campus. If you do not feel safe walking at night call SafeRider or catch a Pitt shuttle, available to all university students and employees.
Know where the Blue Light Emergency Phones are located.
There are more than 500 emergency phones throughout the Pittsburgh campus. Once you press the phone's red emergency button, it will automatically register your location and connect you directly to Pitt Police.
SafeRider
The SafeRider service provides complimentary transportation during the evening and early morning hours when special non-emergency needs arise for Pitt and Chatham University students, faculty, and staff, including those with physical disabilities or limitations. SafeRider is not available to UPMC employees.
Service runs all days from 9 p.m. to 3 a.m. except during Thanksgiving break, winter recess, and spring break.
To use the sevice, call 412-648-CALL (2255) for your safe ride. if you have additional questions, call 412-624-8801 or email pittshuttles@pitt.edu. 
There are restirictions on using the service:
Rides must be within the SafeRider travel boundaries. (See listing and map below.)
Rides must occur between campus buildings, from local residences to campus buildings, and from campus to local residences.
You cannot use SafeRider when you're not along an established bus or shuttle route.
Riders cannot be picked up from Pittsburgh's Greyhound, Amtrack and MegaBus stations on Sundays; on days the University shuttle system operates on a Holiday Schedule; the day before classes resume after a break or recess; the first day classes resume after a break or recess.
Each rider is permitted one round trip per night and a maximum of 25 trips per semester.  This helps ensure that all persons who need SafeRider are able to access the service and that our response time is reasonable.  SafeRider is for use in special cases on routes where no buses or shuttles are running. It is very unlikely that a person who is using SafeRider in the manner that it is intended will need the service more than 25 times in one semester.
If your origin and destination are on a campus shuttle or Pittsburgh Regional Transit bus route, you cannot use the SafeRider service. SafeRider is a supplement to those transportation options. If your origin is not on a regular shuttle or bus route but your destination is, SafeRider will take you to the Transportation Center at the Cathedral of Learning. You can continue to your destination from there.
SafeRider is NOT for:
Travel on an established bus or shuttle route.
Meal runs or shopping trips.
Pick-up from establishments that serve alcoholic beverages.
Travel to or from the South Side Sports Complex and the McGowan Center on the South Side.
Emergency calls. If you are experiencing an emergency, contact the University of Pittsburgh Police Department by calling 412-624-2121.
To Request a Ride
You can request SafeRider from your smartphone using the TransLoc app (Android | iOS) or by calling 412-648-2255 or 8-2255 from a campus phone During SafeRider's operating hours.
Be prepared to provide the following information to the dispatcher: Name;  Pick-up location;  Destination;  Number of guests (maximum of two non-University persons);  a call-back number.
Upon boarding the SafeRider vehicle: Present a valid Pitt ID to the driver. The driver will swipe the ID card and hand the card back to you. ALL riders must present a valid identification card.
Wait Times
The dispatcher will give you an approximate pick-up time when you place your call, although wait times can vary.  The dispatcher will call you back when SafeRider is approaching the pick-up location.
It is your responsibility to wait for the dispatcher to call back. If the dispatcher receives no answer, a busy signal, or a recorded message, SafeRider will still be sent to your location.
SafeRider will wait a maximum of five minutes. If you fail to arrive, the shuttle will proceed to the next pick-up location and you will be considered a no show.  If you call back, you will be placed at the bottom of the waiting list. Combining of pick ups is arranged when possible to expedite service response.
If you call from the Schenley Quad or Towers, the pick up/drop off point is Hillman Bus Shelter.
SafeRider does not accept reservations. Service is always on a first come, first serve basis.
If you cancel your SafeRide
If you fail to cancel and are not there when SafeRider arrives to pick you up, you are considered a no-show.  If you are a no-show three times in one semester, you will be placed on probation. A probation letter will be sent to you from the Department of Parking, Transportation and Services informing you that your right to use SafeRider will be denied for the remainder of the semester if one additional violation occurs within 30 days of the date on the letter.
A fourth no-show within 30 days of the date on the letter will result in you losing your SafeRider privileges for the remainder of the semester, and may result in a judicial complaint being filed against you.
SafeRider boundaries
The boundaries Baum Boulevard on the north, Carnegie Mellon University on the east, the Center for Biotechnology and Bioengineering on the south, and Trees Hall/Robinson Street on the west.